Early Intervention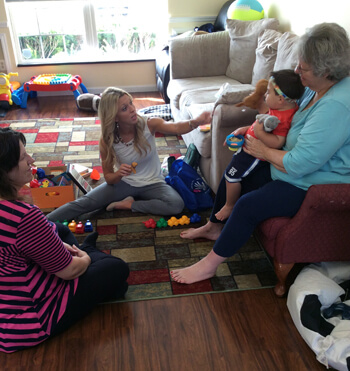 Early Intervention Specialists provide support and assistance to parents and young children from 0-3 years old. After a child is diagnosed with hearing loss, parents are referred for a language development assessment and preparation of an Individualized Family Service Plan. Family training, counseling and home visits address a wide variety of topics relevant to acceptance of the child's hearing loss and appropriate early childhood development. We serve families in Central Ohio: Delaware, Fairfield, Franklin, Licking, and Union counties.
Overview of services
Intervention visits:

Takes place in the child's natural environments (home, childcare location, etc.)
Tailored to the unique needs of children who are deaf or hard of hearing
Provides training and counseling to the families to offer tools for success

Evaluations/Assessments

Participates in child and family assessments
Administers appropriate assessment tools to determine areas of need
Provides informed clinical opinion

IFSP development/support

Attends all IFSP meetings as a core early intervention team member
Offers suggestions and insights for establishing outcomes
Adapts intervention visit to support IFSP outcomes

Team Meetings

Provides expertise and consultation to core early intervention team
Acts as primary service provider or secondary service provider
Develops transition reports and other documents for team as needed
To refer a child or for more information contact:
Vickie Walker, Early Intervention Director at vickiew@dsc.org or call 614-841-1991.